Author's note: I had a draft version of this article ready last week. But then, tragedy happened. I've done my best to revise with the results of the intervening ten days or so.
Here's a look at the bets, and how they are doing so far:

$
Team
Standing
PyW/L
Bet
Odds
Mood
$200 (8.0%)
ATL
14 - 38
21 - 61
< 36.0
-110
👍
$200 (8.0%)
MIL
43 - 7
69 - 13
< 58.0
-110
🤯
$200 (8.0%)
PHO
20 - 31
34 - 48
> 29.5
-110
👍
$100 (4.0%)
CHA
16 - 35
24 - 58
> 23.0
-110
¯\_(ツ)_/¯
$100 (4.0%)
LAL
38 - 11
61 - 21
< 50.5
-110
🤯
$100 (4.0%)
NYK
15 - 36
23 - 59
< 27.5
-110
👍
$100 (4.0%)
DAL
31 - 20
51 - 31
> 42.5
-110
👍
$100 (4.0%)
UTH
32 - 18
51 - 31
< 54.5
-110
¯\_(ツ)_/¯
$100 (4.0%)
SAS
22 - 28
37 - 45
< 47.5
-110
💵
$100 (4.0%)
MIN
27 - 55
PLAYOFF
5:1
👎
$100 (4.0%)
BRK
23 - 27
38 - 44
< 44.0
-110
👍
$100 (4.0%)
MEM
26 - 25
40 - 42
> 27.0
-110
💵
$100 (4.0%)
SAS
37 - 45
NO_PLAYOFF
+225
👍
$100 (4.0%)
CHI
19 - 33
31 - 51
> 33.5
-110
¯\_(ツ)_/¯
$100 (4.0%)
LAC
36 - 15
57 - 25
< 54.5
-110
👎
$100 (4.0%)
DAL
51 - 31
PLAYOFF
+210
💵
$100 (4.0%)
MIN
15 - 35
27 - 55
> 35.5
-110
🤯
$100 (4.0%)
NOR
33 - 49
PLAYOFF
+225
👎
$100 (4.0%)
GSW
5th (27.5 GB)
19 - 63
DIV
+325
🤯
$100 (4.0%)
CHI
31 - 51
PLAYOFF
+275
👎
$100 (4.0%)
PHO
34 - 48
PLAYOFF
14:1
👎
$50 (2.0%)
OKC
49 - 33
PLAYOFF
7.5:1
💵
$50 (2.0%)
OKC
3rd (4.5 GB)
49 - 33
DIV
500:1
🤔
$2500
💥
Here's another way to break it down: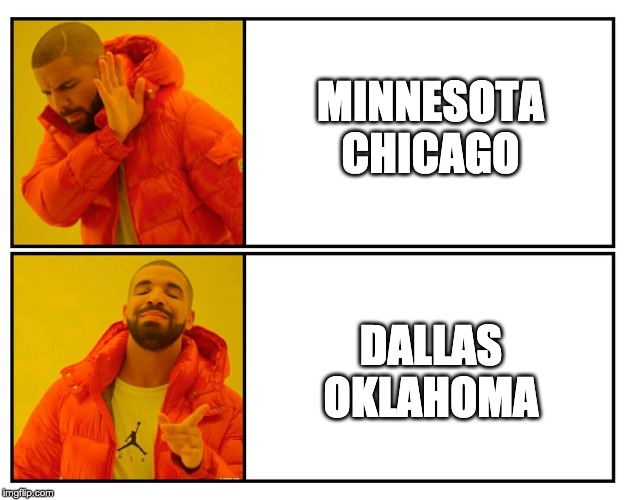 Bets I would prefer to light on fire
Lakers, Bucks. These two teams had way too strong a start, and are overperforming already-lofty expections. The Lakers appear to be using a 2009 version of Dwight Howard, and LeBron James looks like he's engaged and having a lot of fun in the regular season, which is not his typical M.O. In retrospect, Maybe betting against a guy who missed the playoffs for the first time in about a century was not a good idea. As for the Bucks, well it is kind of crazy how everyone on that roster not named Lopez is having a near career year.
Wolves, Bulls (Playoff), and...New Orleans? New Orleans sure had a rough time of it, but given what little we've seen of Zion, I think I am ok with chalking both of those bets up to bad luck. The Wolves, though... man, I am not sure how many times I am going to let this team burn me. And when they started the season 3-0 (and eventually a more realistic looking 8-6) before completely imploding... well, that just feels like salt in the wound. My initial take here is that the main reason I was wrong to be bullish on them is that some of their good players aren't getting playing time. Their better players' strengths do not play into the type of ball that that Saunders wants to play (or that Rosas wants him to push). I'm thinking of guys like Vonleh, Bell, and Dieng, who never gets to play together with KAT. And if you push a style of ball that doesn't fit your roster, these are the results you are going to get -- this is exactly what happened to Philly during the Process years. They shot (and missed) a lot of threes, and lost a lot of games.
Editor's Note: The Wolves traded many of the players in that last paragraph yesterday. I strongly suspect more trades are coming, but nothing is going to turn those two bets around.
Editor's Note about the Editor's Note: Indeed. Wiggins and Dieng were both also traded, for D'Angelo Russell and James Johnson, respectively. I think the new roster is likely marginally better than the old roster, and will hopefully be more fun to watch, but yeah, the bets are toast.
With regard to the Bulls, there's some bad luck involved as well (mostly Otto Porter's injury), but it's been a minute since Thad Young was truly productive, and the roster is really thin. Maybe the playoff bet was getting a little too ambitious? It's weird because as I type this, the Bulls are in 9th place. But it's also really hard to convince myself of any narrative in which they would gain the 4 games they need to get to the 8th spot.
Bets I'm biting my nails over
Clippers, Jazz: One thing I predicted about the Clippers is coming true -- Leonard is on pace to miss about 20 games. But other things aren't going according to "plan". Beverly is having one of his best seasons (make sure you look at the non-shooting stats), and Moe Harkless and JaMychal Green are contributing meaningful minutes in ways that I frankly should have accounted for. Still, this looks like it could come down to the wire.
The Jazz bet I have mixed feelings about; they started sluggishly, which is a sign that I am still in this race, but they've been so very strong lately (15-1 since December 11). On the other hand, that 15-1 stretch includes a lot of bad teams (only Miami, Indiana, and the Clippers were serious playoff teams), and they have a much rougher stretch coming up in the second half of the season. I still think there is air here. Author's note: since I wrote that, the Jazz have lost 5 straight. Commence nail-biting. 💥
Bulls, Hornets. The Bulls won't make the playoffs, but if Otto Porter, Jr. comes back I think they have a shot at winning 34 games. Their pythagorean pace has them at 31, but of course that assumes their current roster remains the same. The Hornets, also, are a bad team, but I only need 7 more wins. Terry Rozier is averaging career lows in rebounds and turnovers; there is some hope that regression to the mean will help me out here.
Honorable mention: OKC to win the Northwest. On the one hand: yeah, that's not happening. Not only does OKC have to finish strong (like "Holy cow, they went 30-7 over the stretch!" strong, not like "hey they are pretty good" strong), but they also have to hope that two separate really good teams falter (Author's note: pssst... the Jazz have lost 5 straight...). On the other hand....it's FIVE HUNDRED TO ONE. And the Thunder do have three games left against the Nuggets...
Do we think there is a one percent chance that that happens? Maybe. And if there is a one percent chance, then this bet is still worth a little bit more than the paper it is printed on.
Bets I would like to brag about
OKC, Dallas: I remain a little baffled that Vegas gave 7:5:1 on OKC making the playoffs. The thing that's odd about this is that the over/under was 42.5 (which is why I didn't take it). And if you think about the fact that 43 win teams are often on the cusp of the 8th spot, 7.5:1 seems kind of crazy. Those odds can't both be accurately set. As predicted, Chris Paul is extremely productive. Everyone freaked out about how crazy it is to pay somebody his age 40 million (and it is!) but forgot that "overpaid" does not mean "bad". I think it's interesting that we criticize these contracts with older players who are likely to decline, but we don't criticize them when young players who have not lived up to their full potential get them. In other words, I would argue that Andrew Wiggins' contract is much worse than Chris Paul's, despite the fact that Wiggins is 24 years old. 60% True shooting, 3:1 assist-to-turnover ratio, excellent rebounding? Worth it. If we add in the supporting cast (in Shai and Danilo, OKC took back some good players in that trade), I felt really good about this (although I panicked when they started 1-4, I'm not gonna lie). A trade could still torpedo this, so I'll be sweating the deadline this year.
And Dallas. Ok, I didn't see this version of Luka coming, but I did see Delon Wright coming, and I did see Harrison Barnes going. This didn't feel like that big of a stretch, really. The injury to Powell certainly is sad, and Luka getting dinged up lately doesn't help either, but I think they've built enough momentum that the playoffs are still nearly a lock, expecially if Boban takes some of the minutes from Powell. It will be interesting to see if Dallas does anything at the trade deadline.
Spurs: Father time is an asshole. LaMarcus Aldridge is on the decline, and his recent proclivity of taking three pointers has, despite the hype, not helped -- his true shooting is right around his levels of the past few years, driven largely by the fact that he is getting to the foul line a lot less. Here's a fun stat: last year, 29.4% of LMA's shots were at the rim. This year, 20.4% are. In other words, the threes he is shooting are coming at the cost of dunks and layups, not midrange jumpers. It's like he's trolling Daryl Morey! His offensive rebounding is at a career low (can you guess why?). I can't help thinking that if he had developed the three ball early in his career, instead of stubbornly considering it just a tool to be used when he gets older, to lengthen his career, he might have developed into the dominant force folks have always wanted him to be.
Well, that's my update. If all the trends continue for me, it will be the first year this portfolio makes a big profit, driven mostly by the playoff bets that look to be coming in. Wish me luck!